BLOG
We are happy to present you the new Chop, Ride and Party, roadbook nr. 3! AVAILABLE FROM TOMMOROW, THE 21ST OF APRIL! Coma and get it this weekend at the RMC Choppershow in Opmeer!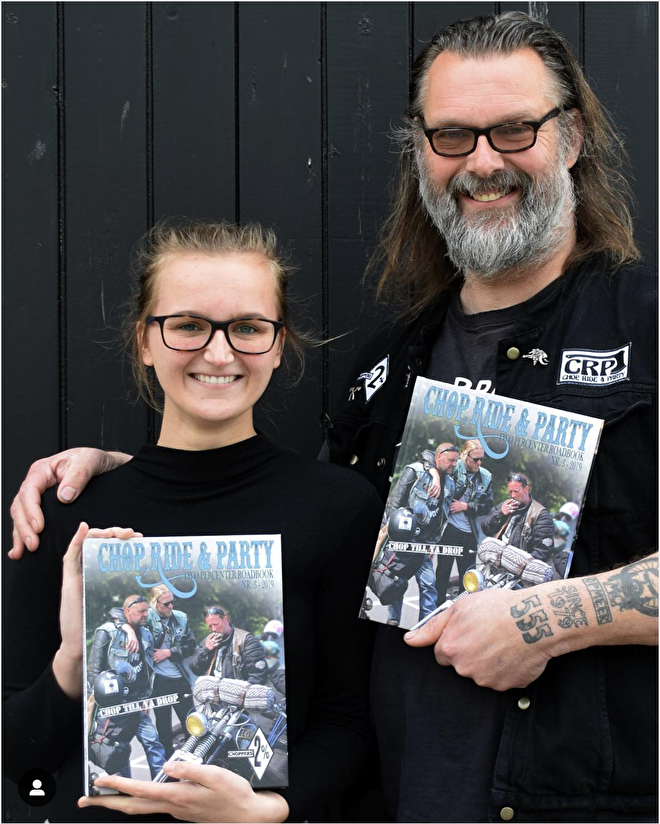 We are happy to present you the new roadbook, Chop, Ride and Party Number 2! Available from the first of April, Come and get it this weekend at the RMC Choppershow!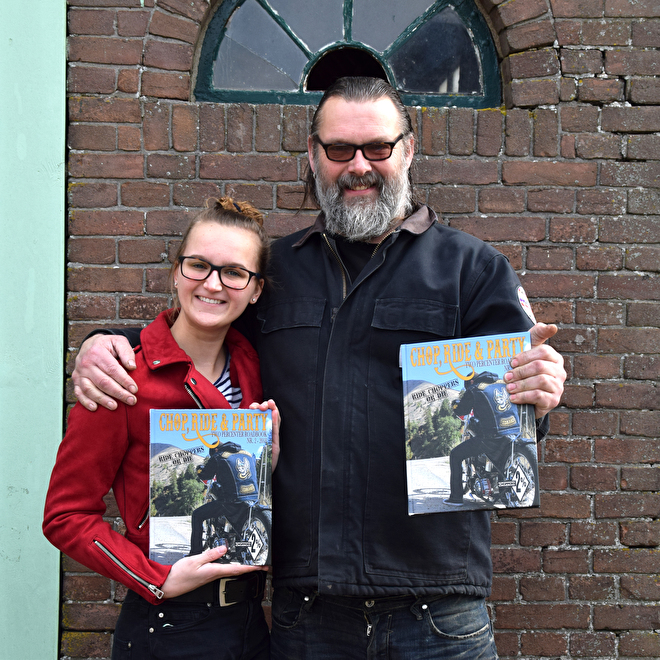 Working for CRP nr2:
Riding Zodiac's Naked Truth - SNEAK PREVIEW.
Riding tunnels with open pipes, the biggest kick you can get!
Photo taken by my daughter Kim who is a better photographer than I will ever be. PROUD!

COMING WEEKEND: KALDENKIRCHEN CHOPPERTOWN!
we will be there with our CRP books and 2%er merchandise

Last weekend quality time weekend with my daughter in Germany. Photographing bikes for CRP yearbook nr.2 and attending culture night in Osnabruck. Enjoyed every minute!

We will dedicate some pages to biker-music in the future CRP yearbooks. My German friend Butcher Hillsrun will be having the honor to write these articles for us! Glad! Another cool and very dedicated guy in the team.

Today I received the 25th anniversary issue of the German Custombike magazine. On the cover, Jesse James but also, a 7 page article about me myself and I....actually, Custombike asked me to write an article about how I view the last last 25 years of bikerhood. Yes, I agree, it is unbelievable. But since I am doing the Chop, Ride & Party yearbook I am getting a lot of exposure. Exposure I decided to go along with because I need every new buyer of the book to be able to earn a decent living. The article came out better and bigger then I thought! Proud! Thank you custom bike.

Looking for a perfect FATHERS DAY present? we have a special deal starting from today. Chop ride and party yearbook AND cap for only 49,95! Price does not include shipping.
Perfect VADERDAG cadeau! Vanaf vandaag hebben we een speciale aanbieding! Chop ride and party jaarboek EN pet voor slechts 49,95! Excl. Verzendkosten.
Verkrijgbaar? Available at : https://www.choprideandparty.com/c-3895057/webshop/

Leuk VADERDAG cadeau? Nice FATHERS DAY present? HET boek for Chopper liefhebbers. www.choprideandparty.com. DELEN GRAAG. SHARE PLEASE

Chopper Bash Flanders! Such a good time we had! For more photos: We will have a multi page article on this event in our CPR yearbook. Or wanna watch more photos for free...go to www.rogues-mc.com.

The great Mitch Cotie who is portrayed in our Chop, Ride & Party Yearbook is working on the flyer for my club's anniversary

FF ZIN IN EEN RITJE AANSTAANDE ZONDAG? Kom langs in Almere voor een lekker broodje en iets koels om te drinken. Aanrader!

Als je geen zin hebt om verzendkosten te betalen dan is ons CRP jaarboek onder andere ook gewoon over de toonbank te koop bij Huig van Coast Customs in Katwijk


Heb je geen zin om verzendkosten te betalen? Het CRP jaarboek is in Nederland ook gewoon over de toonbank te koop. Je koopt ze bij Dennis( op foto) van Small Town Customs in Ermelo of bij Coast Customs in Katwijk.

In case you have not bought our book yet? Now is the time! We got the second print in da house! Go to

www.choprideandparty.com

to get one.

DOSSIER SPEEDCHOP

Deathtraps MC, 10th anniversary. We have a big article on this club in CRP volume 1 and we are going to have a cool report on their 10th anniversary with photos from Holly Anderson in the next CRP. Which, by the way will have many chopper-party articles from everywhere. For now you can see more about this party on the

rogues-mc.com

blog

Harley Jack from Belgium, another happy camper!

For the no-money project in CRP yearbook number one we made a frame inspired by the one Jesse James used for his Golddigger chopper. You like them frames too?




DCCChoppers has one for sale. Dan Bacon Carr is the name of the owner of the shop, check him out on facebook or instagram

DOSSIER SPEEDCHOP. In each Chop, Ride & Party we will have choppers of all kinds. We probably will have a bit more old skool chops in it but we dig other styles too and we will show you everything about new trends and developments. The modern Speed-chop is one style we will try to cover. On photo the building of Bob's Speed Chop. Bob is a two percenter from Amsterdam and we hope to do a bikefeature on his bike when it is finished for CRP yearbook 2018. But here some photos that will show you which way he is heading. We love it!


People from everywhere happy with their books: Patrice le Dreff

Me and my club were visited by Holly from Basket Case magazine from California. She made this excellent photo of us for an article in her mag. We from CRP yearbook really like Basket Case magazine. Check it out

Basket Case

!


We have a very interesting clubreport about the Deathtraps as a NEW-GENERATION CLUB in our first CRP yearbook but even these guys get older, Ten years already! They will have their anniversary party soon and we will be there to cover it.


In our Chop, Ride & Party yearbooks we are trying to show where you readers can find the coolest chopper people. In the North-East of France you will find a lot! Some parts of certain countries have just more chops then others. The North-East is one part of France, Bretagne is another for instance. On photo Jean Claude from the Boozefighters in Mecrin. There is an excellent article about the man's shop in CRP yearbook one 2017. Order the book at the webshop:

www.choprideandparty.com


DOSSIER SPEEDCHOP. In CRP yearbook one we already had two articles about so-called Speedchops. We will try to follow all trends in the chopper-scene of ours. We will cover every cool development we notice. We love the trend choppers are getting longer and wilder and more 70's and more suitable for big roadtrips and will show that, we still very much like the Frisco chopper trend, bikes to race through town, we dig the basic Swedish style chops and we like Speedchops where Jes

se James West Coast style seems to be mixed with the SOA clubstyle.
We will tell you all about this new thing called SPEEDCHOP and even bring in some ideas of our own.
On photo Matthew Torres of Black hands MC Idaho on the turbo charged Shovelhead Speedchop he is building together with Brother Speed member Brian Stock. ( More about Brother Speed Choppers in issue two too! We will try to have the most special BSMC choppers on photo for another very cool article in the next CRP) You all have to wait another year though...


In the mean time at the famous swapmeet in Mecrin in the north-east of France: Chop, Ride & Party yearbooks available. For all you boozefighters overthere, we have an article of Jean Claude's place in it too. Slick and Leonie: Thanx for bringing the books.


Last monday, 'Dag van de Arbeid', we were at the cool Brotherhood MC Swapmeet in Antwerp Belgium! Good times!




This is the centerfold in Chop, Ride and Party number one. I had the idea of having a wild and crazy looking biker on a chopper do a burnout and that without him knowing it a sexy hot woman would mysteriously appear from the tire smoke. The only photographer I could think of to do this in a way I liked idefinately is DUCO DE VRIES. The man who previously shot all photos for our book 'Bikers in Holland'. Duco loved the idea and already knew how he would do it during the first talk we had. He came with an entire team and we spend all day doing the perfect shot. The result is absolutely Da Bomb! The plan is to have Duco do next years centerfold as well.


Book sells like crazy so we ordered the second print of yearbook number one and there will be a Chop, Ride & Party number two for sure! Every year one is the plan.
If you are an artist making biker-art and would like some exposure, we might want to publish your work along with an interview and a photo of you in our year book.
You can send it to info@beerrmc.nl
On photo, a detail of the art work biker-artist Mitch Cotie did for CRP number one. Such a good artist he is! Check out his work on instagram.


I would like to take this opportunity to thank Jet from www.jet-shirts.nl for making the banners for our stand and the shirts, the caps and all other things she did to help us out. It is highly appreciated!!
So any of you want to order special one-off shirts, banners, patches, caps, anything with any print of your liking no matter how many? jet-shirts is the way to go!



Red Bart, One of our CRP Collumnists, at the RMC chopper show. Bart will do a collumn for CRP every year. Next year two pages instead of one, Bart! One for words and one for photos.
At the moment we have The Flathead as our technical collumnist and we are going to have two more for the next yearbooks. I need at least one young chopper-nut to also do a collumn.
We want fiction ( short stories) too, and a cartoon, so you think you can be the one, let us know.


THE LIFESTYLE
How did all this start for me?….We started our club in 1979 but in 1990 me and my club-brother Schweik decided to visit Sturgis and TRAVEL THE STATES FOR SEVEN WEEKS. We rode Shovelheads (borrowed from a Dutch Harley trader). On our way from Sturgis to the West Coast we ran into the Outsiders MC. We were immediately impressed. In a time when Choppers seemed to slowly disappear from the American streets and bikers started to look more clean-cut and acceptable, the Outsiders and their bikes still looked like the REAL DEAL. We started to talk with them and it clicked. We had a few drinks together before we went our own way again. Not after having accepted their invite to come and visit their clubhouse in Portland Oregon though. Which we did and the rest is history….We stepped into a whole new world!
We were accepted for who we were by these American bad-asses and suddenly were welcomed to JOIN THIS TRUE OLD SKOOL LIFESTYLE these guys were still living. The Outsiders were and still are part of a large group of clubs. Clubs with names like the Brother Speed, the Righteous Ones, the Free Souls and the Unknown. There are at least thirty different ones. These clubs were old. They started in the sixties or even earlier. So they stood at the beginning. We learned they held the old biker values of BROTHERHOOD AND LIVING AS FREE AS POSSIBLE very high and they told us something extremely cool. This is what I learned: While on the road, when a member of this circle of clubs visited one of the clubhouses of a club part of this particular scene, the hosting club would provide the traveler a place to crash, they would pay for his food, his drinks and sometimes even his gas. This way every club-guy could travel as much as he wanted, even with hardly any money. I just loved this! This way they KEPT the nomadic lifestyle a lot of bikers loved so much ALIVE and enforced the brotherhood amongst all the different clubs.
Schweik and I already had experienced something similar in SWEDEN IN THE EIGHTIES and decided we wanted that too for the whole of Europe. Once home we went for it. And have been doing so since then. What I am trying to say, especially to all young bikers who like the seventies so much, it is all out there! Others already created a start to relive it all. It still exists! Live it! PACK UP THAT CHOP AND GO! There still are plenty of old established true biker clubs, today in the States and also in Europe! Clubs with members who are still living like they did in the seventies. Men and women who still love choppers and the free life! Try to meet them and make that what you have already, even better! This is what my CRP book is all about!
I remember talking to an El Forastero member (the oldest choppers-only club in the States) and the tough greybeard told me JUST RIDING A CHOPPER OPENED UP ALL SORTS OF DOORS. 'Hey man, is that your chopper?I got one too! Where are you heading for? Shall we have a drink, need some help?' you know what I am talking about. There were and still are not(!) many choppers so if you see a dude traveling on his chop, invite him to your home or clubhouse for a drink, a shower or some food and listen to his travel stories and tell him yours. Try it, you'll love it!
CRP yearbook will have many stories like this and will try to promote choppers and the lifestyle that goes with it as good as we can!

Sending out the first 50 webshop orders! Yeehaw.
www.choprideandparty.com



Yesterday, at the RMC Chopper Show, we did the Chop, Ride & Party book-presentation and sold 300 books in one day! Way more than I expected. Not bad, not bad at all!! Every one who ever tried to sell books at a bikeshow can tell you this is huge succes and a great start!
The books will be available through our webshop starting tomorrow.


Well, I think this will be the last sneak preview, April 16th, this sunday, you can all see it for real at the RMC Chopper Show.
On photo, one more look into the book: Yvon Hallegot's scrapbook about his visit to the Yokohama Bikeshow in Japan.
Lay-out Design Kim Beerepoot


Another sneak preview. In each issue of Chop, Ride & Party we will have portraits of interesting people who have meant something for the chopper-world. Easy to read and lots of cool photos! In this case a multi page interview with Nol from Dutch Trash Choppers.


Just a sneak preview to show you my daughter and I do everything a bit different. We will have bikefeatures like this from all over and we pride ourselves that it clearly shows what country each bike is coming from.
It is as of you are making a trip through Europe and find all these bikes somewhere along the road, get to know the owners a bit more and learn what they like and what they dont..


FOR SALE AT THE RMC CHOPPERSHOW, APRIL 16th: OUR CHOP, RIDE & PARTY ROADBOOK FOR THE PRICE OF 39,95 EURO.
On photo: Me and my daughter Kim proudly showing of our work. We both put all our free time in it. Kim did all lay-out and a lot of photographing, I did all writing and a lot of the photography as well. And then we had some cool other contributors too. It all turned out exactly how we hoped it would.
APRIL 18th WE WILL START SELLING AND SHIPPING
CRP YEARBOOKS THROUGH INTERNET. THEY CAN THAN BE ORDERED FROM OUR WEBSHOP WHICH CAN BE FOUND AT WWW.CHOPRIDEANDPARTY.COM.
WE WILL MAKE SURE YOU GET IT AT YOUR HOME, WHERE EVER YOU LIVE.


Guess we are not the only ones doing a special on Tom Fugle And rightfully so! For a ten(!) page tribute to Choppergod Tom Fugle though, you got to get yourself a copy of the Chop, Ride & Party yearbook.
Got our website with webshop opened too. www.choprideandparty.com. Check it out. Book not available yet through the net, you got to wait till april 18. What we do know is what it will cost. CRP Yearbook will cost 39,95 euro ex shipping and handling.


Only choppers that can do the distance in Chop Ride & Party magazine. Just 2% of all bikers still build and ride choppers. Lourens on photo is one of them. More about the man and his Shovelhead chopper in CRP nr.1


Here ya go, the new cover for Chop, Ride & Party magazine. The Annual Roadbook for two percenters. I am doing this adventure with my daughter Kim who does the lay-out. Both photo and lay-out of the cover were her thing. Proud!


When I was making the trophee for this year's RMC bikeshow I used my no-money project as the example for the model that I have integrated into the trophee. This way I could already give myself a 3d impression of the thing. I soon found out I like the looks of an open neck better than one that is closed with sheet metal. But a 'closed' neck is neccesary for strength and I want the bike to look 70's and in those days they used extra sheetetal everywhere on their choppers. I also had the idea of bending piece of 6mm round stock around the frame in an organic way. Why not fill up the gooseneck with pieces of round as well and leave it half open? Kinda like Jesse James' spiderweb necks but then with my steel-art....So I started sketching and really like what came out. So maybe we will go this way.



Besides writing and photographing for CRP I also build bikes. Choppers! Good thing about that is I get to ride them too. I mean, I got my own, but riding another every once in a while aint bad either. Today I am riding the chop I built for a Belgian friend and I am loving every minute of it.


Do you know this guy? Well, if you have ever met him you would have remembered. It is the Flathead. The most opinionated guy in the world but also: The man I rely on when things get too technical when I am building another chopper. I really like how the Flathead works. Always unconventional, always looking for more affordable ways to fix things. He is my motor and gearbox man and he will be sharing his thoughts and ideas with you in his own collumn in Chop, Ride & Party.
And yes, that is his Panhead there on photo. The Pan he has been riding all over Europe with.


While my daughter and 'partner in crime' is busy finishing the webshop and site for selling the book. I haved been making the BANNER STAND for our book presentation, at april 16. RMC Choppershow.



Deathtraps MC, on the road today. This is a new generation club. We have a special on them in this year's CRP. Got a choppers-only new generation club too and want a special in our book? Let us know, we might drop by for some photos this summer.


Check, check, double check: Send! YES!
BOOK PRESENTATION WILL BE AT THE RMC CHOPPERSHOW APRIL 16


In Chop, Ride & Party. We will have clubreports about new generation chopper guys and old generation chopper people. The Deathtraps MC from Sonora Cal. are definately a new generation club.




On photo, after setting up camp somewheren near Caen, France, we were looking for a cool little place to eat after a long days trip. This is what its all about. You gotta love it! Such good memories.


GETTING REAL! Now its is getting real, damn, so excited! Me and my daughter are doing the last things for the book. Yesterday and the day before yesterday (yes, it starts to look like a real job, haha) we did the final corrections and decided what comes where. As you can see, nothing hi-tech here. Just using the living room floor to get a good idea of what will look and work best. So proud of my daughter. You can't imagine how much thought went into all this. Can't wait to see it in print. Today appointment with the printer. Will keep you all posted.


TOM FUGLE'S FINAL DIAMOND




When Tom Fugle passed away last year he was in the process of building another chopper for the big Born Free show. He never got to finish it....




To honour Tom, some of his brothers have decided to try to finish it in time for Born Free in a way Tom would have done it.




They lack the funds though, so if you would like to see the Final Diamond (see photo) in its full glory, there is way to help achieve this. BUY ONE OF THESE SHIRTS at

cookingwithargon.bigcartel.com


We are working our asses of to finish the Chop, Ride & Party yearbook so we can present it at the RMC Choppershow. Be there if you want one or order it a week later through our webshop.


Like the old Easyriders magazine, Chop, Ride & Party is a yearbook for men. Simply because 98 percent of all chopper riders are men. But, dear ladies, we won't ignore you...we will try to pay attention to the girls that are seriously riding homebuilt choppers too. In our 'CHOPPER CHICKS' pages we will portray women on chops. Got already quite some cool photos. On this one here you see Caro from France with her chopped Sporty. Right now she has mounted the engine of that bike into a hardtail frame and is working on it with the help of her boyfriend to get it finished for the riding season. Girl powerrrrr.


I started building the No-Budget Project. See that sad looking heap of old frameparts? That's is what I will use to build a new ultra radical swingarm(!) chopperframe suitable for the chopped-off Sporty motor and the gearbox donated by Small Town Customs from Ermelo, Holland


Chopper History. I will have a lot of chopper history in the yearbook too. On photo: The Chopper Freaks from Norway 3000 years ago


No Budget Chopper Project. It is going well with this project. Never expected it but people keep giving me more and more stuff for it. Now it is Frederik Lapere who gave me those awesome Rabbit-Ears, a half-product. A DIY handle bar kit. I do believe these kind of do-it-yourself products will become more popular in chopper-land. The maker, in this case, Frederik, has done all the hard work. The kinda work that is not easy to do at home. But you can still make the Rabbit Ears bars the way you want them. High, low, wide or narrow. I love it. Just needs some welding and cutting. I will show you what I do with them in the first issue of the yearbook.
Thank you Frederik, cool shit!


Been working our asses off on the yearbook the last couple of weeks. My daughter is still doing school so she has to do all work for Chop, Ride & Party in between. Almost start feeling sorry for her, really, no shit. But it is starting to get such a fucking cool book. And we are getting help from everywhere. Allthough Chop, Ride & Party will focus mainly on the European chopper scene we will still have some cool stuff from other sides of the world too. Like photos from this bad-ass chopper from Shane, member of the Brother Speed MC Boise. We are proud to say we can welcome photographer Diana Sterk to our team. This is one of her photo's and we absolutely love it. Definateley gonna use more of her work.


Biker-art in Chop, Ride & Party. We will have a lot of ART in our two percenter yearbook. I asked Mitch Cotie too to do some of his excellent work for us. Can't wait what he will come up with. Look at the picture here, this guy is so good!


ROADSIDE REPAIR SHOP sponsers the No Budget project. I am collecting parts for a chopper I am going to build for as little money as possible. I will publish a how-to story in my yearbook so you can all follow the project. What is the idea? There are used parts people gave me, parts that I swapped and stuff I will make by hand. But, you know what?Now suddenly people start offering me new parts for the project. Unbelievable! Small Town Customs from Ermelo built me a fourspeeds gearbox, MnM Design from Blokzijl gave me a Sporty tankshifter and is working on another part for my project (more about that later) and today I received a cool classic headlight from roadsiderepairshop.com. Check these guys out they sell all sorts of headlights and taillights and for affordable prices.


A biker legend has died! Chopper God Tom Fugle is no longer with us. I am so sorry and my condolances go out to his wife Jennie and the El Forastero MC. For more on Tom, go to

www.rogues-mc.com.

It will never be enough but I tried to do the man justice on the club blog. I will try to do more in the first issue of Chop, Ride and Party. Tom was my hero!


That is me and my oldest daughter. My wife and I go on three week vacations by bike every year. We have always ridden homebuilt choppers and my kids always went with us. In fact they still do allthough my oldest is 20 years old now and has a boyfriend but still loves the biketrips we make.




I am making the Chop, Ride & Party magazine with my oldest. The rest of the family, my wife and youngest daughter help me when they can. It is a family affair.


Look what the mailman brought me! A Tankshifter for Sportsters produced by MnM Design, from Blokzeil. As you know I will be building a Sporster based chopper for as little money as possible and will have you people follow it in the Chop, Ride & party yearbook.




MnM, a young chopperbuilder from Holland, sponsored the project by giving me their production tankshifter. If you have a Sporty and like what you see, contact Mnm, they have a facebook page and a website and sell them shifters for a fair price.



My personal friend, Yvon, a member of the French Chopperkingz went to the Yokohama bikeshow and took some cool photos for my yearbook so the readers can get a bit of an impression of what is going on in the land of the rising sun.
Allthough the yearbook deals mainly about the European Chopper Scene we will try to show what is happening in other parts of the world as well. Japan is very interesting if you like choppers!


MAKING THE CENTERFOLD FOR CHOP,RIDE & PARTY: THE TEAM!




Foto graaf Duco de Vries zegt : Nog een teaser voor het komende boek van Ton Beerepoot waar ik een shoot voor had. Samen met styliste Marry Broersen en visagiste Kim Wijbenga.


Been making photos and interviews for Chop,Ride and Party again. This time for more biker-art in the mag. Wait until you see theis particular art in the book. So rad! Thanx Igor and René.


You like Chopper history as much as we do? You will find it in Chop, Ride & Party. Told and Photographed by the people who were really there and are still into it!




About the photo? This one was taken in front of the Brother Speed MC clubhouse in the seventies


'NO BUDGET': HOW-TO PROJECT in CHOP, RIDE & PARTY magazine. Designing the chopper we are going to build for the book. I sometimes make twenty different drawings before I start.




Just good ol' fun.


Beer, the man behind this new magazine also does a blog for his club.

www.rogues-mc.com.

If you have not already, please check it out. You like what you see? Then we are sure you will love Chop, Ride & Party too! The book however is no club thing. It is independently made by Beer and won't deal about his club. So it will be a bit of that particular blog but without the Rogues playing the main part. On photo you see Rogues members Brembo, Lurch and Torra. The two little girls are Beer's daughters and one of them is now doing the lay-out for Chop,Ride & Party, some twelve years later!


CENTERFOLD for CHOP, RIDE & PARTY MAGAZINE. THE MAKING OFF: Last Saturday we made the photos for the centerfold with the help of photographer

Duco de Vries Fotografie

and his team. Our nude model was Deborah made our blood run wild and Gerry, our favourite bad ass chopper pilot. Man, this was so much fun. Everybody was in the right mood, we all tried to make this the best centerfold ever in biker history, haha. Thanx people, you were a blast! The end-result? Guess you all have to wait till April....



This epic photo was taken by René from the Animals during a cool roadtrip I made with a bunch of chopper riding brothers two years ago. After a period when a lot of people were building bikes just for show we are now seeing that a lot are going back to what it is all about. Riding! People want to seriously ride their choppers all over the fucking planet! Easyriders all over again, haha. In my new book I will pay a lot of attention to that awesome development. Chop, Ride & Part will feature several articles about cool roadtrips. It will have travel-tips, we will mention great places to stay and to visit and we will telll you where all chopper-parties and camp-out are being helt here in Europe. Start saving so you can buy this book-magazine when it comes out in April.


Chop, Ride & Party magazine will be made not only for those who like to build choppers, no, it is also a cool book for those people who like to travel on their choppers. It are photos like this one here we are looking for.


''No Budget'' Chopper Project in Chop, Ride & Party Magazine. We will build a seventies choppers for as little money as possible and will let the readers follow the entire process. We will make a start with the project on this facebook page to keep it interesting for ya all. Several people will sponsor the project. Just got a call from Dennis Bakker from Small Town Customs in Ermelo, Holland. He has a gearbox for the project. It is all in parts but he invited me to come and turn the pile of parts into a good working gearbox again. He also gave me this wheel together with a better hub. We will use it as a rearwheel for the project. Thanx Dennis. Check this guy out. He does excellent work.

www.smalltowncustoms.nl


NO BUDGET; We will have several projects to follow in Chop, Ride & Party. On photo the start of the 'No Budget' project. We will be building a seventies chop for as little money as possible in honor of my Brother Blut who died a long time ago but is still in our hearts. We will show you exactly how we make things for the bike. The parts on photo: I swapped a burned (as in a fire) Harmon frontend for that ultra narrow springer frontend. And the incomplete and chopped Sporty engine, I swapped for two club rings and a stock Sportster frame. So the start has not cost us anything so far..


The good thing is that I am making this Chop,Ride & Party yearbook with my very own daughter. Not only is she doing the lay out, she is also taking photos for the mag, like this one here.


What can you find in this new magazine? Besides cool choppers from all over the world, choppers-only parties, clubs that are into choppers also a lot of other stuff, like cool building projects

Guestbook
05-05-2018

- Just received my book. Absolutely fantastic. I love it, a... 

read more

27-04-2018

- not sure if I'm registered. tried to order books .... 

read more
New message